Divorce – post Christmas family breakdowns
Not exactly a positive headline, but the truth is that enquiries about divorce and separation can increase by 300 per cent in the weeks following Christmas. Many couples will delay taking any action during the festive season to avoid upsetting family and friends.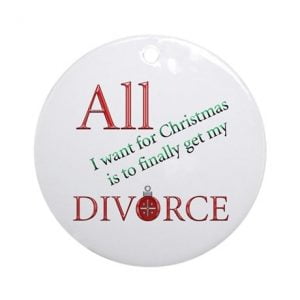 Christmas pressure
The period in the run up to and during Christmas can add further strain and financial pressure to relationships. There is an increased expectation that Christmas has to be 'perfect'. On average each of us in the UK will spend just over £900 on festive food, drink and presents. (Source: https://www.experian.co.uk/xmas.html)
The reality
Many couples do not blame Christmas itself for the break up of their relationship. In most cases a split was already likely, but they decided to delay the announcement. This is even more likely where there are children involved.
This means that solicitors across the country are likely to see an increase in enquiries in the first few weeks of the new year.
Common reasons for divorce
The most common reasons for divorce do not change with the seasons. They are:
adultery,
falling out of love and
arguing.
Divorces in the UK (2017)
There were 101,669 divorces of opposite-sex couples in England and Wales in 2017, a decrease of 4.9% compared with 2016, but similar to the number seen in 2015 (101,055).
There were 338 divorces of same-sex couples in 2017, more than three times the number in 2016 (112 divorces); three-quarters (74%) of same-sex couples divorcing in 2017 were female.
In 2017, there were 8.4 divorces of opposite-sex couples per 1,000 married men and women aged 16 years and over (divorce rates). This represents the lowest divorce rates since 1973 and a 5.6% decrease from 2016.
The divorce rate for opposite-sex couples was highest among men aged 45 to 49 years and women aged 40 to 44 years.
The average (median) duration of marriage at the time of divorce was 12.2 years for opposite-sex couples; this matches the high last seen in 1972.
Unreasonable behaviour was the most common reason for opposite-sex couples divorcing with 52% of wives and 37% of husbands petitioning on these grounds; it was also the most common reason for same-sex couples divorcing, accounting for 83% of divorces among women and 73% among men.
(Source: Office for National Statistics)
If you need advice on a divorce or separation then you can contact our Family Law team on 01535 662644.
For further information on what we can offer please go to: